Welcome to Grange Farm Lowton
OPENING TIMES
Monday Closed
Tuesday 9:30AM to 4:00PM
Wednesday 9:30AM to 4:00PM
Thursday 9:30AM to 4:00PM
Friday 9:30AM to 4:00PM
Saturday 9:30AM to 4:00PM
Sunday10:00AM to 4:00PM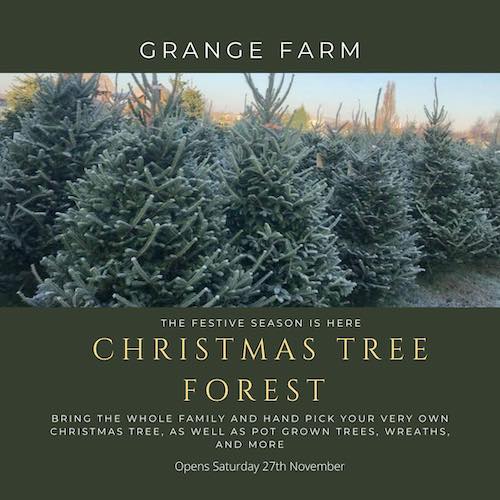 Christmas Trees are now available at the farm for you to handpick from our outside Christmas Tree forest right through to Christmas Eve.
Wreaths, Crem Pots and Christmas Gifts also available.
I took my 2 Grandsons today, they are aged 7 & 2 yrs old. They both really enjoyed feeding all the Animals, going on a tractor ride, and the bouncy castles, and in the ball pool, and playing on the outdoor play area. The ice cream was really nice too. All the Staff were very friendly, and even came to tell us, that Bambi the baby Deer, was coming out for them both to feed. We are going back next month Pumpkin picking.

Sue Bennett Sunday, September 8, 2019
Lovely 2nd visit to Grange Farm, we first visited when the farm had first opened to the public and it was great then, lots of animals to pet and the lady was so helpful and went out of her way to make my little boys day special. She showed him all the animals and let him feed the lambs etc. Our second visit was a lovely sunny Saturday in September the change in the farm was amazing! The barn with bouncy castles/soft play was great and free! Lovely dairy ice cream for sale too! Outside they now had a play area, sand pit and little tractor area which my little one loved! there were so many more animals too, absolutely great farm such a fun family day out! We had a great day and would 100% recommend and will be making many more visits! Id also like to say a big thank you to I think it is the gentleman who owns the farm, I was just going to the cafe for some drinks and realised it was shut, I just went to turn around and he shouted me over asked what I wanted and went and got it for me! He didnt need to do this but was so kind and just generally great customer service! Thanks for a wonderful day

Kayleigh Edwardson Monday, September 30, 2019
Came to the farm this afternoon with my nearly 2 year old son, mum and brother. We all had a fab afternoon, lots to do and staff are very pleasant and chatty. Will defo be returning.

Jessica Bird Thursday, September 19, 2019
a great day today our daughter who has special needs loved the all the animals and staff were great too definately be coming again

Steven Wildsmith Saturday, September 7, 2019
Today we celebrated our sons 3rd birthday at the farm and invited 23 children. Both Debbie and Daisy were lovely and so helpful, but Walt was the guy who made the party special- hes so good with the kids and thoughtful the kids just loved it! Id definitely recommend not only parties but the farm is definitely worth a visit!

Jackie Andrews Saturday, September 28, 2019
Get In Touch!
Address: Stone Cross Lane, Lowton, Warrington, WA31JU
Telephone: 01925290062
Mobile: 07585040503
Email Address: info@grangefarmlogs.co.uk
How To Find Us