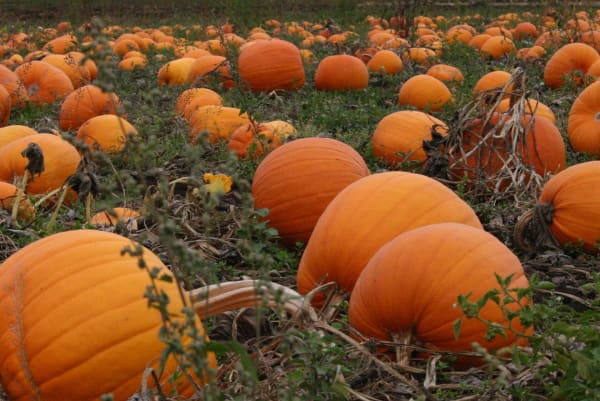 Pumpkin Picking 2020 - SOLD OUT
PLEASE NOTE: When purchasing you do not need to buy multiple tickets. The number on the ticket is the number of admissions you will be allowed. E.g. Family of 5... only needs to buy ONE Family of 5 ticket.
Wow its that time of year again and we will be opening our pumpkin patch from the 10th of October right through till the 31st of October. We have grown over 15,000 pumpkins this year and over 20 different varieties of all shapes, sizes and colours.
WE HAVE NOW DECIDED TO MAKE OUR PUMPKIN EVENT A TICKET EVENT TO MAKE IT SAVE AND TO REDUCE THE NUMBERS DAILY. TICKETS WILL BE ON SALE FROM THURSDAY 24TH OF SEPTEMBER FROM MIDDAY YOU CAN PURCHASE THEM FROM OUR WEBSITE www.grangefarmlogs.co.uk IT WILL BE A TOTAL COST OF £3.00 PER FAMILY BOOKING THIS IS TO JUST COVER THE COST OF OUR ADMIN FEES AND WILL HAVE 3 DIFFERENT TIME SLOTS FOR EACH DAY.
Pumpkins can be in the price range of £1-12 depending on the size. We will also be offering some special offers on some of the pumpkins too.
HERE IS WHAT ACTIVITIES TO EXPECT ON CERTAIN DATES:
WEEKENDS: 10th,11th, 17th AND 18th Pumpkin Picking, Fair Rides, Tractor Rides (weather permitted) animal feeding and catering vans.
12th -16th Pumpkin Picking and Animal Feeding ONLY. P
19/10/20 - 31/10/20 HALF TERM WEEKS
We will have the carving barn open (you must purchase the kit from us to use the carving area) more info to follow on this to make it as safe and as clean as possible for everyone.
The fair ground will be here (will confirm price once discussed with fair ground) we have catering vans here as well as puffed crust pizza stall serving wood fire oven pizzas made fresh to order. And Halloween themed food available.Tractor rides available pay on the day (weather permitted) more info to follow.
Animal feeding: (just need to purchase a bag of feed for £1.00)
---
We will have COVID safety measure in place such as:
social distancing in queues

sanitising stations for wheelbarrows

mask to be worn in the carving barn unless exempt. and tables sanitised after each family.

the fair ground will have there own safety measures in place also.
Postcode: WA3 1JU
Venue Address: Grange Farm, Stone Cross Lane, Lowton, Warrington, WA3 1JU